Have water but no power !
Water where you need it but no power? No problem
Lorentz helical rotor solar powered submersible water pumps are high quality products designed for drinking water supplies, livestock watering and smaller irrigation applications.
The Lorentz range have been specifically designed to deliver water efficiently using only solar power,  which allows pumping from deep well bores, dams, streams and tanks from anywhere that receives sunshine with the ability of pumping up to 350mtrs head with no pollution.
Each pumping system is made up of a helical rotor pump head, brushless 3ph pump motor and a controller, this modular concept keeps all the electronics above ground providing simple servicing, ease of access and a low cost of owner ship.

Lorentz Solar powered helical rotor pumps deliver water economically, cleanly and reliably, ANYWHERE.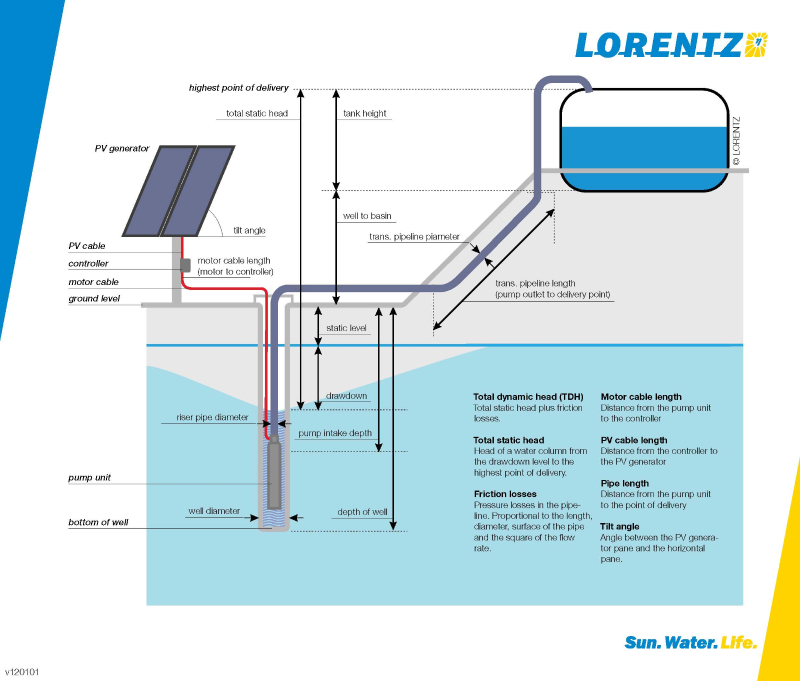 Lorentz submersible pumps are the ideal solution for rural areas with no power, fitting down most standard 4" and 6" bores replacing expensive mains power pumps.
No running costs, harness the free power of the sun to pump water for stock, irrigation, drinking water.
Long life pump head, sealed three phase brushless motor, MPPT Run direct off solar panels or incorporate batteries for longer running each day.
Benefits
Long life expectancy and proven in service record
Designed for use in remote and harsh conditions
Smart modular design for simple and cost effective servicing and repair
Water filled motors for reliability and to avoid oil contamination
Fast and simple installation
Cost effective spare parts philosophy
Very strong ROI against diesel powered pumping
Large range of pumps to closely match each application and optimise efficiency
Features
Engineered in Germany
Water temperature specific variants to provide the most efficient outputs
High quality non corrodible materials used throughout
Cast stainless steel components
Solar direct connect with AC connection options
MPPT technology to maximise power use from PV modules
ECDRIVE DC brushless motors, designed for solar, with over 90 % efficiency
Optional data logger

Please contact us for more information on these units.